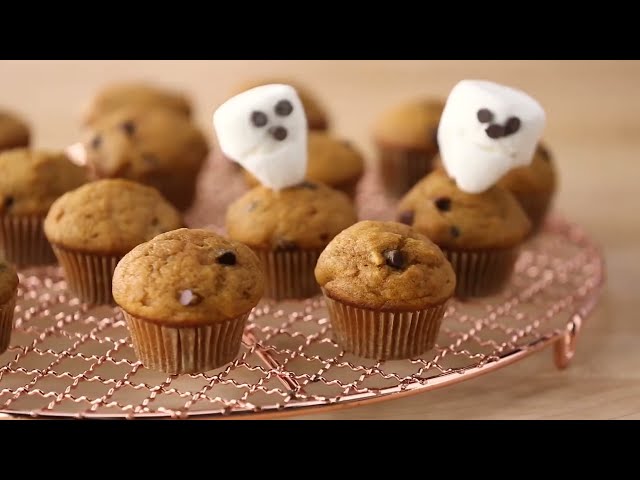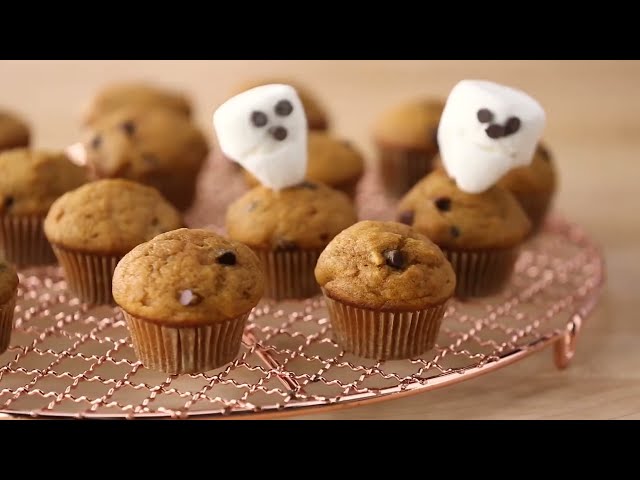 Chocolate Pumpkin Mini Muffins with Marshmallow Skulls
EL MEJOR NIDO
Chocolate Pumpkin Mini Muffins with Marshmallow Skulls
35 mini muffins, 1 muffin per serving
Preheat oven to 350° F. Paper-line or grease 35 mini muffin cups.
Combine flour, baking soda, baking powder, cinnamon and salt in medium bowl. Combine sugar, pumpkin, eggs and oil in large bowl; whisk until just blended. Add flour mixture to pumpkin mixture; stir just until moistened. Stir in ¼ cup mini morsels. Spoon batter evenly into prepared muffin cups.
Bake for 14 to 17 minutes or until wooden pick inserted in centers comes out clean. Cool in pans on wire racks for 10 minutes; remove to wire racks to cool completely.
Use sharp kitchen scissors to cut the corners of the bottoms of each marshmallow at an angle (this forms the chin). Cut a large slit above the chin for the mouth. Use a wooden pick to poke eyes and a nose. Stick the pointy end of mini morsel in the eyes, nose and mouth, if desired. Stick a wooden pick in the back of each marshmallow and then gently stick into each muffin.